Upcoming Events, Opportunities, & Announcements!
June 13th - Virginia Primary Elections
Every election is important and a chance for you to weigh in. Make sure you are ready to vote on Tuesday, June 13th - know where, know when, and what's on your ballot. Check out this page for more info and voting resources.
http://www.delegatemarciaprice.com/VOTE
June 19th - Getting Healthy for the Resistance
6:30pm-8:30pm Denbigh Community Center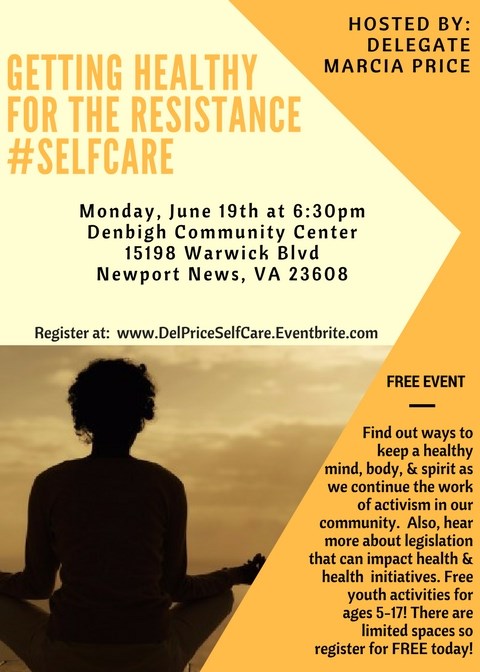 Find out ways to keep a healthy mind, body, & spirit aswe continue the work of activism in our community. Also, hear more about legislation that can impact your health & various health initiatives. The evening will be filled with empowering information, surprises, and fun. Spend time recommitting to self care, because you are worth it!
Youth activities and snacks are available for the first 20 registered youth, ages 5-17.
For questions, please call Tempestt at 757-266-5935.
Register here: https://delpriceselfcare.eventbrite.com
Stay tuned for more events. We meet the 3rd Monday of each month!
June 27th - Evening at the Chrysler: Shipyard Workers
6:30pm-8:30pm Chrysler Museum of Art (Norfolk)
You're invited to an evening with Delegate Marcia Price
Night at the Chrysler: The Shipyard Workers of Hampton Roads
Guided Tour of Exhibit & Discussion
Exhibit by Glen McClure
This event is free and open to present and past shipyard workers of Hampton Roads. Come out for a fun evening celebrating your hard work!
For questions, call Tempestt at 757-266-5935 or email DelMPrice@house.virginia.gov
For free tickets: https://shipyardworkersexhibit.eventbrite.com
Other Happenings & Announcements in the Area
9:00am-12:00noon Newport News
The volunteers in Newport News will clean two areas: the Monitor Merrimac overlook located on 16th Street and Chesapeake Avenue, and Huntington Park. To volunteer,
contact Darrell Baskin at
dbaskin@nnva.gov
. To learn more about Clean the Bay Day,
Kudos & Congrats
Congratulations to the Economic Development Authority for receiving a $5000 Virginia Tourism grant for the Craft Beer Tourism Project!
Great work to the students and leaders of "Students Run the Streets"
after school club at Huntington Middle School!
Find out more about their program here.
Did you know?
There are grant opportunities available for Businesses located in Enterprise Zones- click for more info and how to apply!
There are openings on several state Boards & Commissions! Please consider applying for one! If you do, let me know! We need citizen input! Here's a link for the openings. Click here for the application! Use your time, talent, and expertise to benefit the entire Commonwealth!
Continuous Events!
Newport News City Council Meeting: City Council typically meets the 2nd and 4th Tuesdays of each month at 7:00 pm in City Council Chambers, City Hall, 2400 Washington Avenue. Meetings are shown live on the City's Cable Channel NNTV (Cox Ch 48/Verizon Ch 19) and are streamed live on www.nnva.gov/nntv. City Council meetings are also available to be watched on-demand the day following the meeting. Oftentimes City Council holds work sessions in the 10th floor conference room of City Hall in the afternoon before the regular meetings. Work sessions are open to the public. Agendas for work sessions and regular meetings are available online in the Agenda Center the Friday before the meeting.
Newport News School Board Meeting: For their schedule, click here. Regular Meetings: 6:30 p.m. and Work Sessions: 5:30 p.m. The meetings are located at the Auditorium at the NNPS Administration Building, 12465 Warwick Boulevard, and unless otherwise noted, all meetings of the School Board are open to the public. To watch past meetings, click here.
Hampton City Council Meeting: City Council meets on the 2nd and 4th Wednesday of each month. The meeting begins at 6:30pm at Hampton City Hall, 22 Lincoln Street, Hampton, VA 23669. Click here for the agenda, once it has been posted http://www.hampton.gov/3098/City-Council-meeting-information
Hampton School Board Meetings: School Board meetings are held on the first and third Wednesday of each month. The first meeting of the month is a regular meeting and is televised live on Cox Cable Channel 46 and FIOS Channel 20. This meeting is held at Jones Magnet Middle School, 1819 Nickerson Blvd. The second meeting of the month is a work session and is not televised. This meeting is held at the Ruppert Sargent Building at One Franklin Street. Both meetings are open to the public and begin at 6:30 p.m.
South District Townhall Meeting - 2nd and 3rd Thursdays
2nd Thursday - Midtown Community Center 6:00pm-7:30pm

3rd Thursday - Downing Gross Cultural Arts Center 6:00pm-7:30pm

Hosted by Councilwoman Saundra Cherry
North District Townhall Meeting - 4th Mondays
Denbigh Community Center

7pm

Hosted by Councilwoman Sharon Scott
Check back often for more events!