Welcome to my website! I was elected in 2016 to represent the 95th District in the Virginia House of Delegates (parts of Newport News and parts of Hampton). I am honored to serve the citizens and help make the Peninsula an even better place to live, learn, work, play, and raise a family.
The 2021 General Assembly Legislative Session began on Wednesday, January 13, 2021 and we adjourned on March 1, 2021. During Session, all 100 members of the Virginia House of Delegates met every Monday-Friday and you can watch our previous committee meetings and sessions here. The House has 14 standing committees and the meetings were held at various times during the week. Can't remember how a bill becomes a law, no problem! Get your refresher here to follow along the process.
You can track all of the bills that we introduced and passed this year all the way through the legislative process. We started off in 2021 Session and we ended in 2021 Special Session 1 - so be sure to check out the bills on the right site. You can find how my bills ended by clicking here, as I got 5 bills passed, 1 sent to study, 1 resolution passed, and 1 resolution sent to a work group. Take a look at some of the videos we have from session on my YouTube channel!
All the bills that passed both the House and Senate have been sent to the Governor where he can sign them, veto them, or suggest amendments. Then the House and the Senate will reconvene on April 7, 2021 to take action on any vetoes and amendments.
Be sure to sign up for our email newsletter to receive important updates. And be sure to check back often for news posts and updates from the District. You can use this site and our social media pages to stay connected and see what we're doing and how you can help! We have included important information on COVID-19/Coronavirus, including evictions prevention information. Take a look around the site!
Thank you for visiting!
Sincerely,
Marcia "Cia" Price
Member, Virginia House of Delegates
95th District: Parts of Newport News and Hampton
"Be the change. Do the work."
A note about our Constituent Services work: There have been some frustrations expressed with our requirement that you let us know if you are a resident of the 95th District. While I understand that concerns and issues often do not have the same borders as districts, my primary commitment is to the people I serve and then I will do as much as I can for others. Feel free to reach out to your own Delegate if you do not live in the 95th District. Here's a link to find out which Delegate has the honor of serving you: Who's My Legislator
updated 3/16/21
News
Friday, April 30, 2021 10:35 AM
In 2018, both Serena Williams and Beyonce opened up about their birth stories and went public with issues they encountered. Their courage raised the issue for Del. Lashrecse Aird and me and we started speaking with family members and constituents and found so many people retelling similar stories of loss and close-to-death experiences. Some stories were spoken aloud for the first time, but each revealed systemic and structural failings that Del. Aird and I knew we had to work to fix. In late 2018 and early 2019, we spoke up about the concerns and we were met with condescension, resistance, and ignorance. When we quoted the statistics of Black women's maternal mortality, especially in our own districts, people thought we were exaggerating. But that did not deter us. We continued to speak up and fight for our constituents and pregnant people around the Commonwealth and it was a siren to advocates, experts, practitioners, parents, patients, and those who were mourning their lost loved ones. We showed them we were listening, that they mattered, and that they had us as entrances into an often-daunting system. We let them know that they are our priority. (Click above for the full update)

---
Tuesday, April 20, 2021 9:49 PM
Democratic political leaders in Virginia on Tuesday said the guilty verdict against Derek Chauvin in the murder of George Floyd heralds a new standard for police officers in their treatment of Black people but leaves an incomplete effort to extricate racism from the justice system.
Floyd's death under Chauvin's knee in Minnesota last May inflamed months of protests in Richmond over police brutality and systemic racism in the criminal justice system — prompting a still-ongoing reckoning among policymakers that has yielded some state reforms.
"The work continues, but it's also OK to enjoy a well-needed exhale, even if only for a moment," said Del. Cia Price, D-Newport News, reacting to the guilty verdict on Twitter.
The Virginia Legislative Black Caucus in a collective statement described the road to the guilty verdict as an "incredibly painful and emotional time" that in the end yielded some relief.
"We cannot stop here," the 23-member caucus said. "While this verdict serves as a step forward in combating systemic racism, the work continues to ensure that the arc of the moral universe bends towards justice both for our children and for the generations after them."
---
Monday, April 19, 2021 12:23 PM
"Sam is a man of integrity that has demonstrated a better side of politics. By focusing on people and policy, Sam truly has been a voice of courage and conviction in the General Assembly," said Price. "He has put in the work and would do an amazing job in higher office. His leadership, character, and vision are what we need in our next lieutenant governor."
"Del. Price's vision and tenacity have earned the respect of her colleagues, the trust of her constituents, and the admiration of people across Virginia and beyond," said Rasoul. "I'm exceedingly lucky to call her a friend and enjoyed working with her in the Virginia Legislative Black Caucus. I look forward to continuing that work together as lieutenant governor."
---
Saturday, April 10, 2021 12:00 AM
The commonwealth has amended its franchise — the new "Voting Rights Act of Virginia" is now on the books — and the national press has taken notice. "Virginia, the Old Confederacy's Heart, Becomes a Voting Rights Bastion," ran the April 2 headline in The New York Times. The paper's website account came complete with a very nice and well justified picture of Del. Marcia Price, a Peninsula Democrat and the legislation's House sponsor. Sen. Jennifer McClellan, D-Richmond, carried the bill in the upper chamber. "I have an aunt who marched against the poll tax. My grandparents both had to pay poll taxes," Del. Price told the paper. "Just knowing that they lived under a system that was unfair and unequal, I learned very early that it was wrong, and that it needs to be changed."
---
Monday, April 5, 2021 12:31 PM
The new law that was approved on Wednesday, called the Voting Rights Act of Virginia, requires all local elections administrators to receive public feedback or advance approval from the state's attorney general for changes like moving voting precincts or elections registrars' offices, and allows voters and the attorney general to sue over voter suppression. It expressly prohibits any racial discrimination or intimidation related to voting. "I have an aunt who marched against the poll tax. My grandparents both had to pay poll taxes," said Marcia Price, a Democratic state delegate who sponsored the legislation. "Just knowing that they lived under a system that was unfair and unequal, I learned very early that it was wrong, and that it needs to be changed."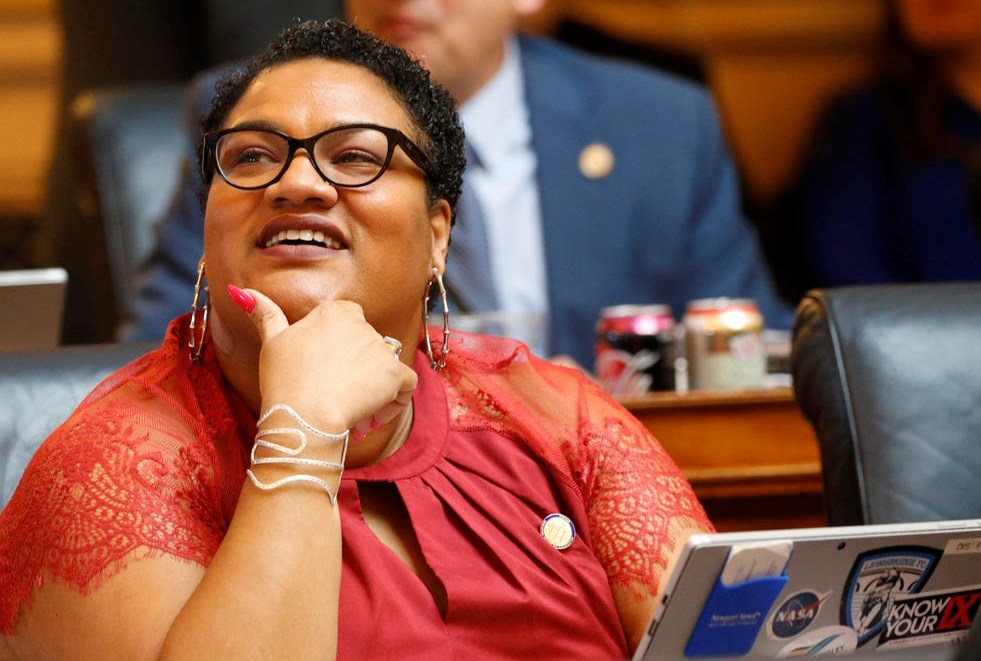 Sign Up for Updates
Thanks for signing up!