Welcome to my website! I was elected to represent the 95th District in the Virginia House of Delegates (parts of Newport News and parts of Hampton). I am honored to serve the citizens and help make the Peninsula an even better place to live, learn, work, play, and raise a family.
The 2021 General Assembly Legislative Session will begin at noon on Wednesday, January 13, 2021. During Session, all 100 members of the Virginia House of Delegates met every Monday-Friday at 4pm and you can watch all previous sessions here. The House has 14 standing committees and the meetings were held at various times during the week. Find our committee video here. Can't remember how a bill becomes a law, no problem! Get your refresher here to follow along the process.
You can track all of the bills that we introduce this year all the way through the legislative process. Here is the link for the bills I have introduced this year: bit.ly/DelPrice2021Bills
As you're following along, sign up for our email newsletter to receive important updates. And be sure to check back often for news posts and updates from the District. You can use this site and our social media pages to stay connected and see what we're doing and how you can help! We have included important information on COVID-19/Coronavirus, including evictions prevention information. Take a look around the site!
Thank you for visiting!
Sincerely,
Marcia "Cia" Price
Member, Virginia House of Delegates
95th District: Parts of Newport News and Hampton
"Be the change. Do the work."
A note about our Constituent Services work: There have been some frustrations expressed with our requirement that you let us know if you are a resident of the 95th District. While I understand that concerns and issues often do not have the same borders as districts, my primary commitment is to the people I serve and then I will do as much as I can for others. Feel free to reach out to your own Delegate if you do not live in the 95th District. Here's a link to find out which Delegate has the honor of serving you: Who's My Legislator
updated 1/11/2021
News
Thursday, January 14, 2021 5:40 PM
Add your news summary here.
---
Saturday, December 26, 2020 3:33 PM
Del. Cia Price, D-Newport News, put others' sudden interest in evictions a different way. "(The Eviction Lab data) was embarrassing enough for those that had the previous privilege of ignoring it," Price said. "But you couldn't ignore it when we hit the national news."
Not everyone was utterly shocked by the Eviction Lab data, Price said. Some lawmakers — Black lawmakers, especially — had been fighting to change housing policy for decades, she added. Such as Yvonne Miller, since she became the first Black woman elected to the General Assembly in 1984. And lawmakers such as Price have been pushing for "housing justice" for around a decade, the Newport News delegate added. Those efforts were rooted in listening to her constituents' struggles with evictions, but also her own childhood.
Price lived in Atlanta, Maryland's D.C. suburbs and in Newport News. Evictions were "way more prevalent" in Virginia than the other places she'd lived. She would often be driving home and, on her way, see the contents of an entire home on the curb. That happened over and over, for 20 years. After a while, she got used to it.
Price described it as "heartbreaking" and "normal" at the same time.
And so the Eviction Lab data and resultant rankings that put Virginia on blast were not shocking, but they were enlightening, mainly because they revealed the scope of the problem and revealed how Virginia stacked up to the rest of the country.
"I knew it was bad. I didn't know it was that bad," Price said.
She said Desmond and the Eviction Lab may not deserve all the credit. Democrats won control of the General Assembly last year, letting them more easily pass bills into law. And, she added, more members of the Black Caucus are in positions of power.
---
Sunday, December 20, 2020 12:00 AM
But Democratic Delegate Cia Price, D-Newport News, said she welcomed this affront to the state's unwritten but often cited prioritization of business over consumers and she's proud of her party's majority which has already passed or is proposing never before seen changes in the law.
"The conversation itself, from the General Assembly, has switched under Democratic control, with the understanding housing is a human right and not a privilege," said the legislator who has spearheaded housing issues since her second term in 2018.
It started slowly, with Republicans still holding power in both chambers in 2019 but, faced with that ominous title of highest evictions following the Eviction Lab report, some changes made it through.
But the new Democratic trifecta in the House, Senate and governor's mansion in 2020 opened doors some advocates had considered long closed.
---
Monday, December 14, 2020 3:31 PM
Del. Price to Host Special Session Legislative Update
Join Del. Price and several other legislators to discuss bills that were passed during Special Session this year. Hear more and get your questions answered. To register for the December 15th webinar, please visit bit.ly/VALegislativeWebinar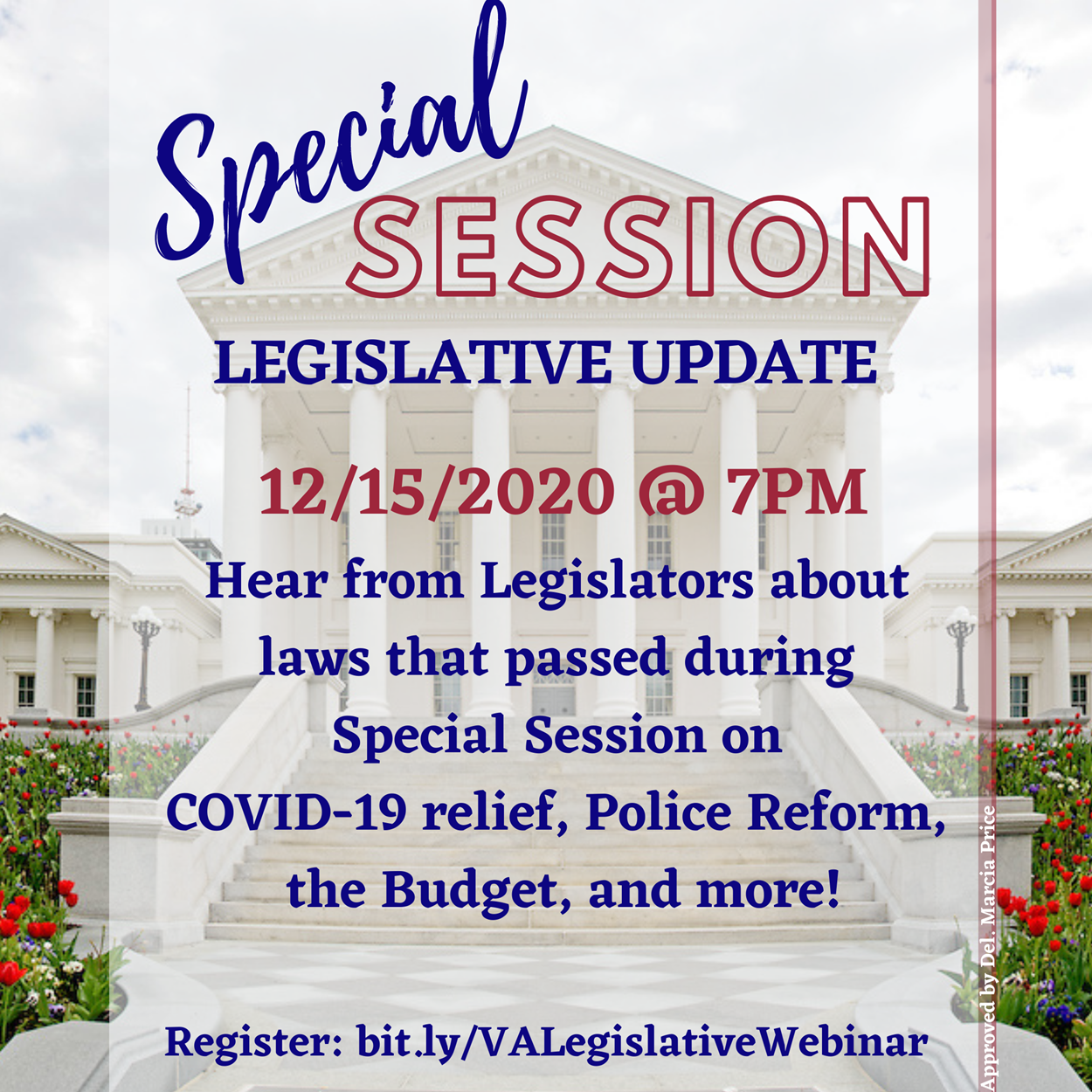 ---
Monday, November 30, 2020 8:02 PM
"Early on, there likely wouldn't be enough for all health care workers," Peake said. "And so that will have to be broken down into subgroups. The level to which it's broken down is going to depend on how much vaccine we have and we don't know that yet."
On lawmakers' minds: how to make sure all communities have equal access to the vaccine. "Prioritizing health care workers, definitely understand that," said Delegate Cia Price (D-Hampton), "but in those next steps how we make a limited supply equitable, that is an important conversation."
That conversation continues. Planning began over the summer. A 100-member advisory group has been meeting since September and local health departments are preparing as well.
We could see vaccinations begin here in Virginia in a couple of weeks, but health officials say it will take some time before the vaccine is available to everyone who wants it.
(Click for video and full article)
Sign Up for Updates
Thanks for signing up!