Welcome to my website! I proudly represent the 95th District in the Virginia House of Delegates (parts of Newport News and parts of Hampton). I am honored to serve the citizens and help make the Peninsula an even better place to live, learn, work, play, and raise a family. Join the team today and together, we can continue to get the changes we need!
The 2021 General Assembly Legislative Session began on Wednesday, January 13, 2021 and we adjourned on March 1, 2021. During Session, all 100 members of the Virginia House of Delegates met every Monday-Friday and you can watch our previous committee meetings and sessions here. The House has 14 standing committees and the meetings were held at various times during the week. Can't remember how a bill becomes a law, no problem! Get your refresher here to follow along the process.
You can track all of the bills that we introduced and passed this year all the way through the legislative process. We started off in 2021 Session and we ended in 2021 Special Session 1 - so be sure to check out the bills on the right site. You can find how my bills ended by clicking here, with our 7 bill limit, I got 5 bills passed, 1 sent to study, 1 resolution passed, and 1 resolution sent to a work group. Take a look at some of the videos we have from session on my YouTube channel!
All the bills that passed both the House and Senate were sent to the Governor and the House and the Senate reconvened on April 7, 2021 to take action any vetoes and amendments. The bills went into law on July 1st of this year unless otherwise stated in the legislation.
We also had Special Session in August to allocate $4.3B in federal funding from COVID-19 relief measures like the American Rescue Plan. I worked hard in this short session for rent and mortgage relief and community violence prevention funding.
Now, members are meeting with our interim committees. I serve as Vice-Chair of the Barrier Crimes and Background Checks Joint Subcommittee and serve on the Deeds' Commission (Special Populations workgroup), Behavioral Health Commission, the COPN workgroup, and the subcommittee on Reproductive Health Services Coverage. Here's a list of all of the study committees, workgroups, and commissions and for a schedule of meetings, click here.
Be sure to sign up for our email newsletter to receive important updates. And be sure to check back often for news posts and updates from the District. We have included important information on COVID-19, including evictions prevention information. Take a look around the site! And be sure to view our June 13th Town Hall!
And of course, this is an election year and I would love your support for re-election so that I can continue to fight for you! Follow our social media pages and sign up to get involved in the campaign!
Thank you for visiting!
Sincerely,
Marcia "Cia" Price
Member, Virginia House of Delegates
95th District: Parts of Newport News and Hampton
"Be the change. Do the work."
A note about our Constituent Services: There have been some frustrations expressed with our requirement that you let us know if you are a resident of the 95th District. While I understand that concerns and issues often do not have the same borders as districts, my primary commitment is to the people I serve and then I will do as much as I can for others. Feel free to reach out to your own Delegate if you do not live in the 95th District. Here's a link to find out which Delegate has the honor of serving you: Who's My Legislator
updated 8/21/21
News
Monday, September 20, 2021 4:34 PM
Price's statement on the Heritage High School Shooting

Del. Price's statement on today's events:
What happened today at Heritage High School is a tragedy. My heart goes out to the students, families, teachers, and staff impacted; and to our whole community who are confronting yet another example of gun violence. Our young people deserve a safe learning environment where they can prepare for their future and thrive; not to have to fear yet another person with a gun. This cannot become the new normal.
It is so very important that we connect with these students and students all across our city and let them know that they are not alone, that we are supporting them, and that we are invested in their future. And we should encourage everyone to seek the mental health resources they need as we all process the events.
Our community has proven time and time again how resilient we are, but we cannot and should not allow a community's strength to take the place of our collective responsibility to prevent gun violence. I've been in touch with local leaders here, and we are on the same page: this cannot happen again, and we are committed to wrapping our services and our arms around these students.
---
Friday, September 17, 2021 8:30 AM
As Early Voting Begins, Delegate Price Announces Twenty New Endorsements
"I am so proud to have earned the support of these organizations because, like me, they are dedicated to working and fighting on behalf of everyday people," Del. Price said. "During my time in the General Assembly, I have worked with them to deliver for the 95th District, to speak up for those voices that have been silenced, and to pass meaningful legislation that improves the lives of the people who call this community home. Today, as early voting kicks off across the Commonwealth, I am honored to have the backing of so many groups who know that I am the fighter my constituents need in Richmond."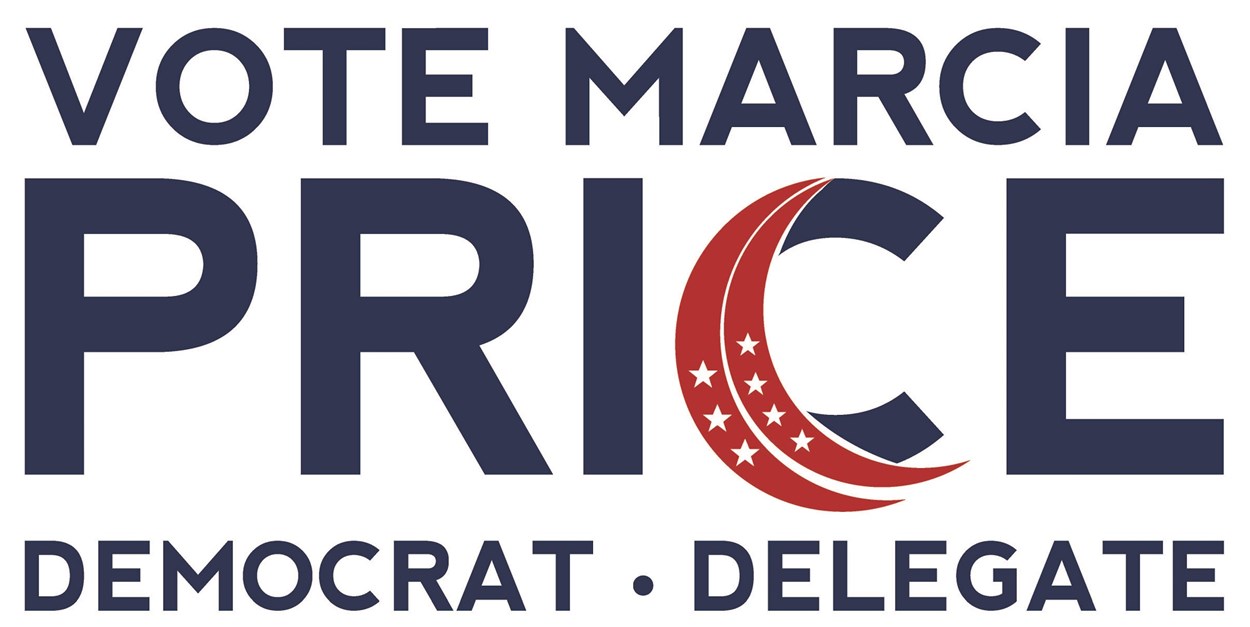 ---
Tuesday, September 7, 2021 8:06 AM
My Why
I'm running for reelection because I know what it takes to deliver for the people of the 95th District. So today, I'm asking for your support! On November 2, send me back to Richmond to keep fighting for you. Vote #TeamPrice!
#BeTheChangeDoTheWork
Learn more: PriceForDelegate.com
Donate: PriceForDelegate.com/contribute
---
Tuesday, August 31, 2021 6:36 PM
In front of the Civil Rights Memorial on Capitol Square on a humid day, Northam addressed reporters, sometimes almost drowned out by cicadas. "As we sit here in 2021 and think about what happened: the rapid trials, the trials by jurors that were all white men. It was wrong," he said. "We're making progress, but still have a lot of work to do." "Systemic racism exists in our society. Black oppression exists. And I think a lot of people need to step back and realize that Black oppression and racism didn't stop with slavery."
Delegate Marcia Price of Newport News said the pardons gives energy to other advocacy on racial justice. "This was one of those opportunities to see wrongs get righted and it's really invigorating - it's powerful. But it's also inspiring for the work that is left for us to continue."
Virginia outlawed the death penalty this year.
---
Tuesday, August 31, 2021 3:42 PM
Tuesday's announcement was welcome news to elected officials who had fought for such changes alongside Northam, including state Delegate Cia Price, D-Newport News.
Price entered the Virginia Legislature a term before the 2017 blue wave election which saw the young official joined by other young, Black and brown progressive lawmakers in taking control of the previously Republican-controlled body.
She pointed to Tuesday's pardons as well as other reforms such as marijuana legalization and changes to civil rights laws over the last two years, as proof of the Democratic majority's priorities and successes.
"Democrats have consistently been fighting for justice and I'm proud of the work we've done," she said before stressing they are far from done. "It's going to take time, but days like today show that commitment."
Northam also brought family members of the Martinsville Seven to the state Capitol for a private meeting where he signed the posthumous pardon document.
Sign Up for Updates
Thanks for signing up!
Election Day
November 2, 2021 at 6:00 AM