Del. Price Receives Jack Brooks Leadership Award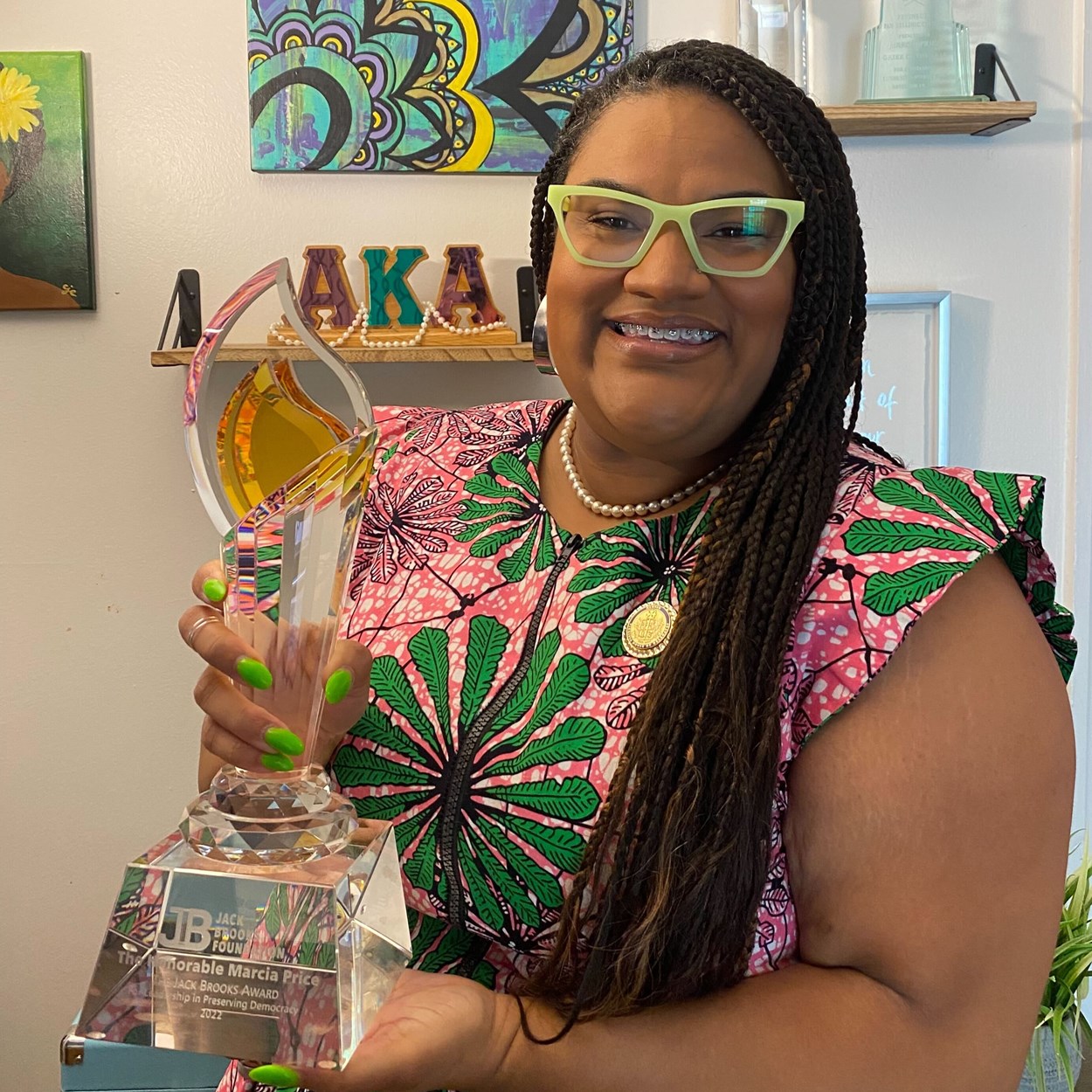 For Immediate Release, June 22, 2022
Contact: Tempestt Boone, 757.968.6054
Del. Price Given Jack Brooks Leadership Award for The Voting Rights Act of Virginia
Price championed the historic legislation in 2021
NEWPORT NEWS, VA - Delegate Marcia "Cia" Price, who represents the 95th District in the Virginia House of Delegates, was recently given the Jack Brooks Leadership Award for her efforts to secure access to the ballot box by fighting to pass the Voting Rights Act of Virginia.
The first of its kind in the South, and in the face of threats to the nation's democracy, the Voting Rights Act of Virginia codified essential voter protections, outlawed voter intimidation and discrimination, and addressed the ongoing attempts to silence the electoral voice of Virginia's Black communities and communities of color.

"I am humbled to receive the Jack Brooks Leadership Award for championing the ground-breaking Voting Rights Act of Virginia. Modeled after the federal Voting Rights Act of 1965, this historic legislation addresses the very real and imminent efforts to undermine our democracy. Through this law, we provide essential protections against voter discrimination and reverse many of the wrongs Virginia's Black and Brown communities have endured as obstacles to voting. I worked alongside Sen. McClellan to safeguard this fundamental right; a right that ensures all other rights and which so many in my community still have painful memories of being denied. And even as we celebrate this win, we must remain committed to fighting ongoing voter suppression in all its forms," said Delegate Price.

Jeb Brooks, Chairman of the Jack Brooks Foundation Board of Directors and son of the late Congressman Jack Brooks, added, "The Jack Brooks Foundation is thrilled to honor Delegate Marcia "Cia" Price with the Jack Brooks Award this year. Delegate Price's leadership in passing the Virginia Voting Rights Act was truly extraordinary and deserving of the highest praise. Her actions represent a shining example for elected officials across the country who are committed to ensuring that all Americans have an opportunity to fully participate in the electoral process."

To watch a recording of the program, please visit www.92ny.org/archives/voting-rights-s9ycbcwhb58
###


Delegate Marcia S. "Cia" Price represents the 95th District of the Virginia House of Delegates, which includes parts of Newport News and Hampton. In the House, she serves on the Health, Welfare, and Institutions Committee and the General Laws Committee. She is the former Chair of the Voting Rights Subcommittee and Vice-Chair of the Privileges and Elections Committee.
About the Jack Brooks Leadership Award
The Jack Brooks Foundation, for the second year, recognized elected officials or organization leaders who are elevating the needs of voters ahead of partisan politics by working to make it easier for Americans to participate in The Voting Process. The awards were given on June 16, 2022, of this year along with a panel discussion with the Foundation and the award winners.
About the Voting Rights Act of Virginia
This legislation was signed into law in 2021 and is the most comprehensive state-level voting rights act to date. Virginia is also the first state that was under the 1965 federal preclearance mandate to have its own voting rights act. It enacted protections on the local and state level against voter intimidation, discrimination, suppression, and misinformation. To read more about the law, visit bit.ly/2021VRAofVA