Voter Information
The next GENERAL elections for Hampton/Newport News will be on
Tuesday, MAY 19, 2020
CHANGES MAY OCCUR DUE TO COVID19 - CHECK BACK OFTEN!
On Election Day, May 19th, polls are open from 6am-7pm.
Absentee ballots must be received back by Election Day at 7pm.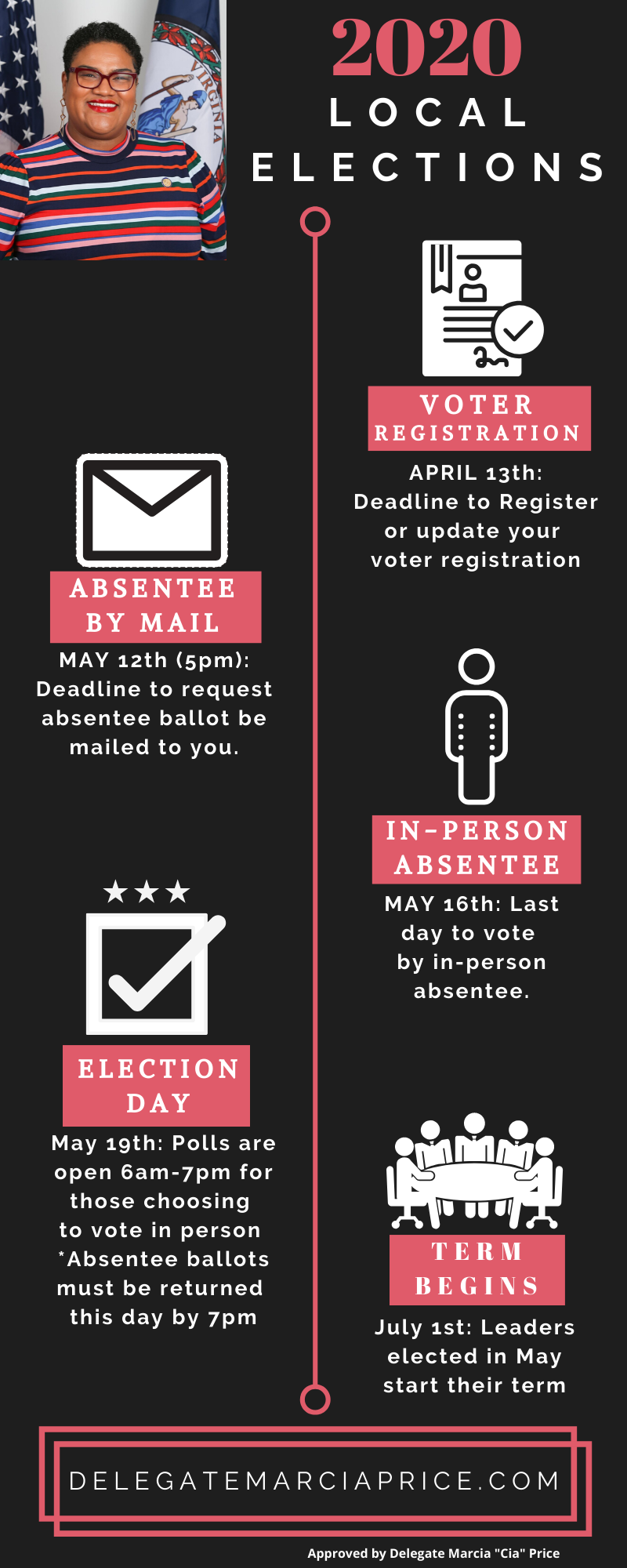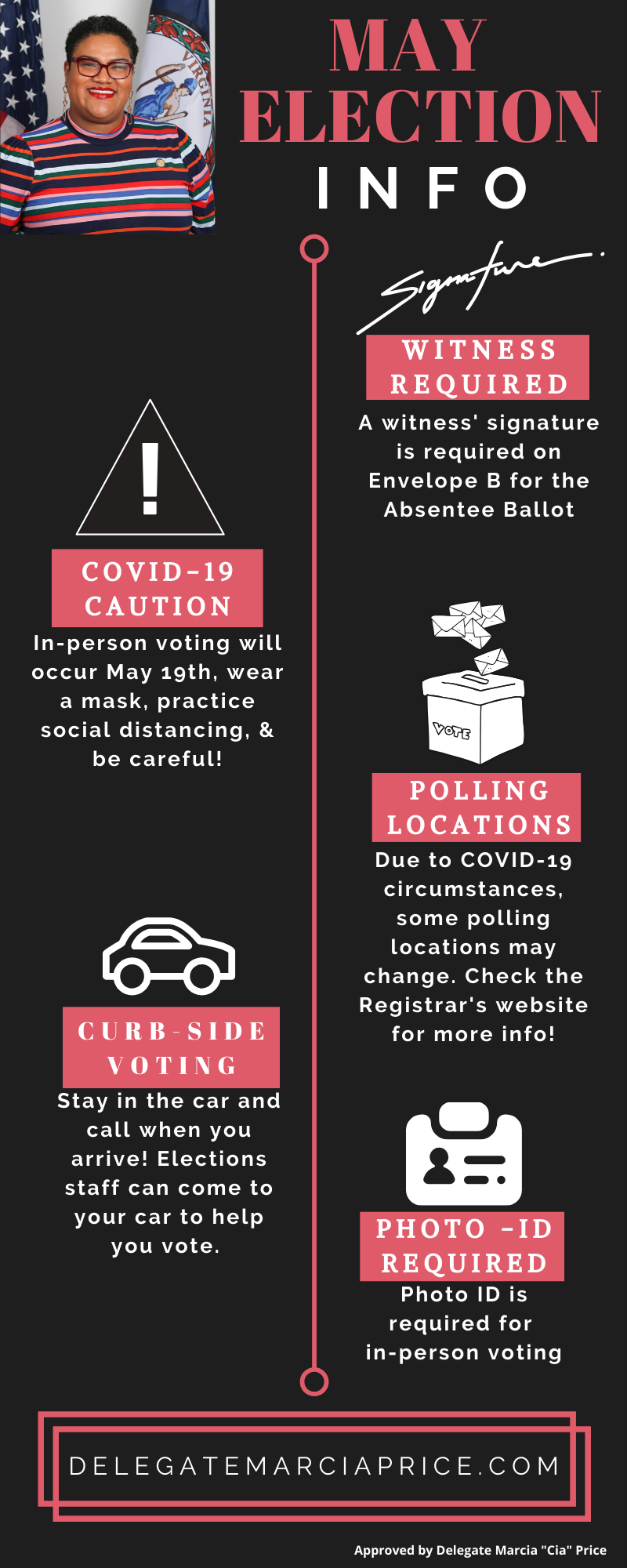 ON MAY 19TH THERE ARE FOUR PRECINCT CHANGES FOR NEWPORT NEWS!
Click here for more info: bit.ly/NNPrecinctChanges519
For more information, please click on the links:
VA Department of Elections Citizen Portal - Log in to your voter information
to find where to vote, see in what districts do you reside,
apply for an absentee ballot, and more!
If you are voting by mail/absentee voting because of the impacts of COVID19,
use excuse #2A for your application!
Who Is My Legislator? - Type in your address and see who represents you on the state and federal levels.
Virginia Department of Elections - A great resource for voting info.
Newport News Voter Registrar - Local voter resources
Hampton Voter Registrar - Local voter resources
Information on Required Photo ID - See the acceptable forms of ID for voting,
including the FREE Voter ID available at your local registrars' offices. (This will change in July 2020)
Information on Restoration of Voting Rights - Apply to have your rights restored
by the Governor or check on the status of your application.
Can't remember how a bill becomes a law, no problem! Get your refresher here.
Also, check out YelloPain's creative Civics lesson: youtu.be/wMALeR1i-FM
Current Elected Officials for our area:
National/Federal Level:
President - Donald Trump

Vice President - Mike Pence

US Senator (senior) - Mark Warner

US Senator - Tim Kaine

Congressional Representative and Districts - 1st Rob Wittman, 2nd Elaine Luria, 3rd Robert C. "Bobby" Scott
Statewide Elected Officials:
Governor -Ralph Northam

Lt. Governor - Justin Fairfax

VA Attorney General - Mark Herring
State Legislators:
State Senator and Districts - 1st Monty Mason, 2nd Mamie Locke, 3rd Thomas Norment

State Delegates and Districts - 91st Martha Mugler, 92nd Jeion Ward, 93rd Michael Mullin,

94th Shelly Simonds, 95th Marcia "Cia" Price
Newport News Local Leadership:
Mayor - McKinley Price

City Council - Vice Mayor Tina Vick, Saundra Cherry, Dave Jenkins,

Pat Woodbury, Marcellus Harris, Sharon Scott

School Board - Chair Gary Hunter, Douglas Brown, John Eley, Terri Best, Lisa Surles-Law, Marvin Harris, and appointed member Maritsa Alger serving Simonds' unexpired term.
Newport News Constitutional Officers:
Sheriff - Gabe Morgan

Commonwealth's Attorney - Howard Gwynn

Commissioner of the Revenue - Tiffany Boyle

Treasurer - Marty Eubank

Clerk of Court - Angela Reason
Hampton Local Leadership:
Mayor - Donnie Tuck

City Council - Vice Mayor Jimmy Gray, Linda Curtis, Billy Hobbs, Chris Snead, Steven Brown, Eleanor Brown

School Board - Chair Ann Curry, Joe Kilgore, Phyllis Henry, Reginald Woodhouse, Jason Samuels, Richard Mason, and appointed member Monica Smith serving Mugler's unexpired term.
Hampton Constitutional Officers:
Sheriff - BJ Roberts

Commonwealth's Attorney - Anton Bell

Commissioner of the Revenue - Ross Mugler

Treasurer - Molly Ward

Clerk of Court - Linda Batchelor Smith
Precincts for the 95th District:
Boulevard* - Knights of Columbus Building

Briarfield – An Achievable Dream Middle & High School

Carver – Carver Elementary School

Chestnut – Dochiki Club

Deer Park* - Deer Park Elementary School

Downtown – City Council Chambers

Dunbar – An Achievable Dream Academy

Hilton* - Main Street Library

Huntington – Doris Miller Community Center

Jefferson – Marshall Courts Rec Center

Magruder – Discovery STEM Academy

Marshall – Marshall Early Learning Center

Newmarket# – American Legion Post 25

Newsome Park – Newsome Park Elementary School

Oyster Point* - Yates Elementary School

Palmer*# - Palmer Elementary School

Reed – Downing Gross Cultural Arts Center

River* - Virginia War Museum

Sandy Bottom (HAMPTON)*# - Sandy Bottom Nature Park

Saunders*# - Saunders Elementary School

Sedgefield* - Sedgefield Elementary School

South Morrison – South Morrison Family Learning Center

Warwick*# - Warwick Recreation Center

Washington – Booker T. Washington Middle School

Watkins* - Watkins Early Childhood Center

Wilson – Ivy Baptist Church
*=new/change
#= split precinct with another district
USE THIS WEBSITE TO CHECK YOUR ADDRESS:
- Your polling location or precinct is based on where you live. You can find out your polling location in your own Citizen Portal. Go to http://bit.ly/CitizenPortalVA type in your name, date of birth, last four of your social, and the city or county where you are registered. Once you go there, you can see your polling location and the address.
-Absentee voting is when you vote before election day because you have a valid excuse. You can do this by mail or in-person. For absentee voting, you can apply to have a ballot mailed to you by logging in to your citizen portal (above) and clicking the box that says request an absentee ballot. Please note that you have to give a valid excuse to be eligible for this. Some reasons may be traveling on Election Day, long work hours, being a caregiver, being ill, etc. For the impacts of COVID19/Coronavirus, use excuse 2A. To vote in-person absentee, you can visit your local voter registrar's office to apply and vote at the same time. For more info, visit http://bit.ly/AbsenteeVoteVA Rules around Absentee Voting may change soon based on recently passed legislation. The website will be updated once changes become law.
-You need photo ID in order to vote in VA. Some examples of valid photo ID are your VA driver's license or DMV-issued state ID, US Passport, employer-issued photo ID, and Student photo ID issued by a VA school. IF you don't have any of the valid IDs, you can get a VA Voter ID for FREE from your local Voter Registrar's office. These restrictions will change once the new bills become law.
-Your House of Delegates district may have changed in the #757 or #804 due to redistricting. You can go to your Citizen Portal above to see what your district is or visit VPAP to see more info about your districts. Go to https://www.vpap.org/ type in your address and see more information.
-Don't assume that everyone in your life is aware of the above info. Please share it and make sure everyone is ready for March 3rd!
-There are a lot of bills about Elections passing the Virginia General Assembly this session, a lot of those changes will take place July 1 of this year and some don't take effect until 2021. They do not apply to the May 5th election yet.
-Have questions? Email me at DelMPrice@House.Virginia.Gov or call us at 757-266-5935
Updated May 17, 2020